Experienced Accountant Highgate
Kevin Dobra can sort out your accounting and tax issues Highgate businesses
Kevin is highly qualified at all things accounting in Perth. He has a high attention to detail and will help make sure your personal and business accounting needs are seen to.
5 Reasons to use David as your accountant:
30 years business accounting experience: David has a Bachelor of Business Degree from Curtain University and has been helping Highgate individuals and Businesses get their accounting in order for years
Strong attention to detail: David won't miss anything! His attention to detail ensures your finances and accounting is always in perfect order.
Registered and qualified: Registered ASIC agent, Registered Tax Agent, Member of National Tax & Accountants Association, Member of Taxation Institution of Australia,, Registered Authorised Representative and Associated with HTAA Risk Solutions.
Highgate Small Business expert: David have many years experience helping small businesses to manage their accounts
Individual tax and Superannuation: From self managed Superannuation to insurance David can help with all individual disputes and questions about fiances.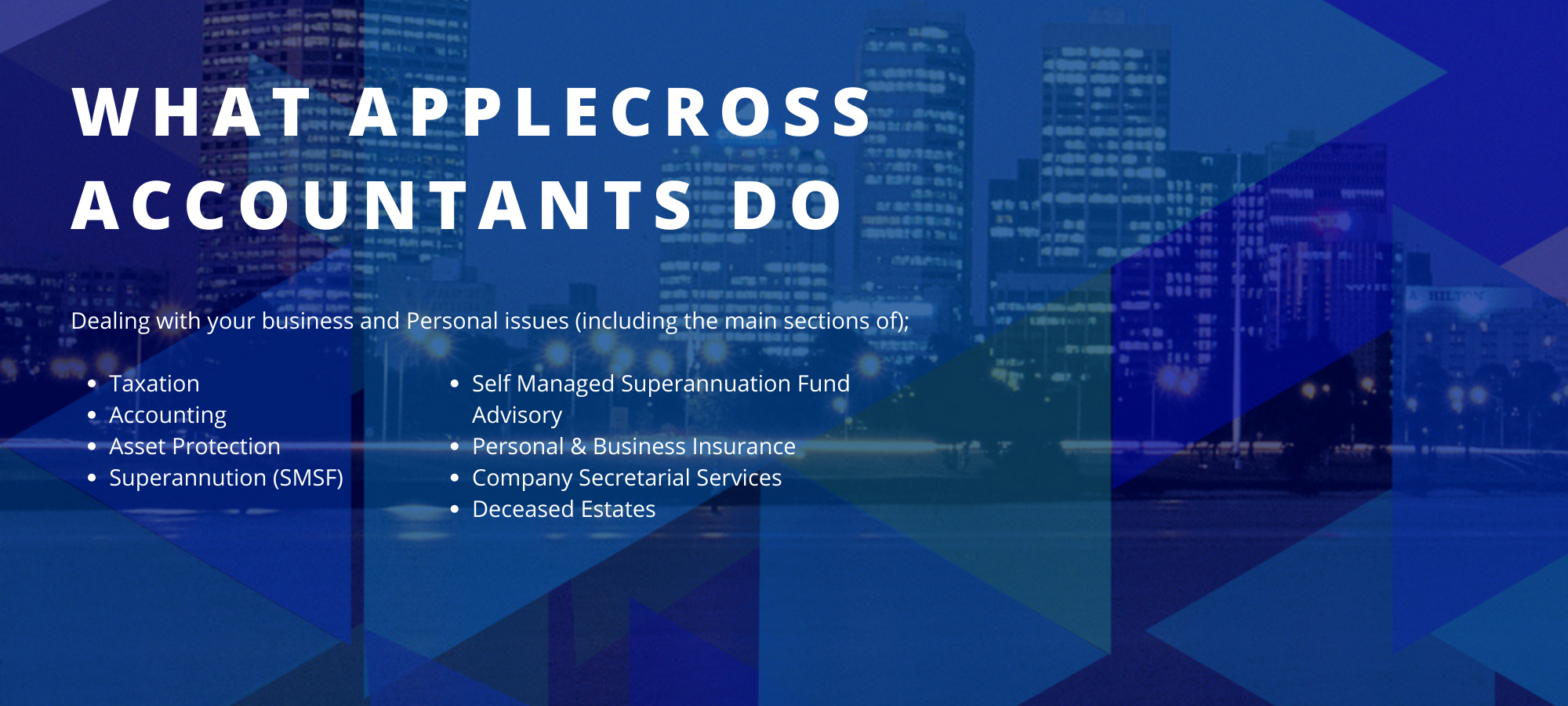 Taxation & Tax Planning Highgate
Dealing with your business issues (including the main sections of);
Income Tax Assessment Act (ITAA)
All income tax returns

Individual
Partnerships
Trusts
Companies
Superfunds

Goods and Services tax (GST)
BAS's and IAS's
Capital Gains Tax (CGT)
Corporate Tax,/li>
Fringe Benefits Tax (FBT)
Superannuation Industry and Supervision Act (SIS Act)
Accounting Highgate
Deal with and reporting your accounting requirements as per the Australian Accounting Standards.
Process, manage and report your accounts correctly with the use of computerised accounting packages
Xero
Myob
Quickbooks
Highgate Asset Protection
The aim is to assist you to control your assets or to have assets which the person does not legally own.
Asset protection is also about minimizing the exposure to risk, that is, the risk of loosing assets.
The aim is to take active steps to protect your assets and wealth.
Superannuation Highgate
Superannuation is a tax-effective way of creating wealth for your retirement
Assistance is provided in relation to:

Establishment
Compliance
Administration of SMSF

Reporting of:

Financial Statements
Income Tax Returns
Bare (Property) Trust)

In accordance with the relevant legislation, that is, Superannuation Industry and Supervision ACT 1993 (SIS Act).

Self Managed Superannuation Fund Advisory Highgate

Applecross Accountants & Advisors is a Corporate Authorised Representative (No. 127 1596) of SMSF Advisers Network Pty Ltd. Kevin Dobra (No. 127 1597) is authorized by SMSF Advisers Network to provide superannuation and self-managed superannuation fund (SMSF) advise on the following;

Establishment of SMSF's
Contribution strategies (amounts, types, withdrawal and recontributing)
Pensions strategies
Transfer of business real property into superannuation
Withdrawal, commutations and death benefit payments
Provision of an asset class investment strategy (based on your risk profile)
Limited Recourse Borrowing Arrangements (for property / asset acquisition) Winding up of SMSF's

Personal & Business Insurance Highgate

After Applecross Accountants & Advisors identify an insurance need, it is then set up alongside and as part of our trusted team of insurance brokers at NTAA Risk Solutions as follows,

Personal Insurance:

Income Protection Insurance – provides a monthly payment if you're unable to work due to an illness or injury
Life Insurance - provides a lump sum payment when you die or if you're diagnosed with a terminal illness
Total & Permanent Disability Insurance – provides a lump sum payment if you become permanently disabled and unable to work again
Critical Illness Insurance (Trauma Policy) – provides a lump sum payment if you're diagnosed with a serious illness

Business Insurance Highgate:

Business Overhead Insurance – helps protect your livelihood by giving your business the cash flow it needs to cover day to day expenses, so you can focus on your recovery
Buy / Sell Insurance – provides a lump sum if you or one of your partners dies or suffers a serious illness or injury so the remaining owners can acquire the departing owner's share and continue running the business
Key person Insurance – can be used to help businesses protect against the loss of income if its owners or key income generating staff are unable to work due to sickness or injury.

Highgate Company Secretarial Services

Assist your company in meeting its Company Statutory Requirements in accordance with the Australian Securities and Investment Commission (ASIC).

Assistance in relation to:

Establishment
Reviewing Annual Statements
Preparation of Annual Statutory Minutes
Notifying ASIC of changes for its Officers and Members
Provide a facility of a Registered Office

Deceased Estates Highgate

The property and assets belonging to a person who has died are called their deceased estate and is held in trust until there's a transfer of the assets to the beneficiaries who are presently entitled.

If you need a professional and highly qualified accountant contact Kevin on (08) 6460 3063

Some of the other great local Highgate businesses